OUR DIVES: MAHÓN - FORNELLS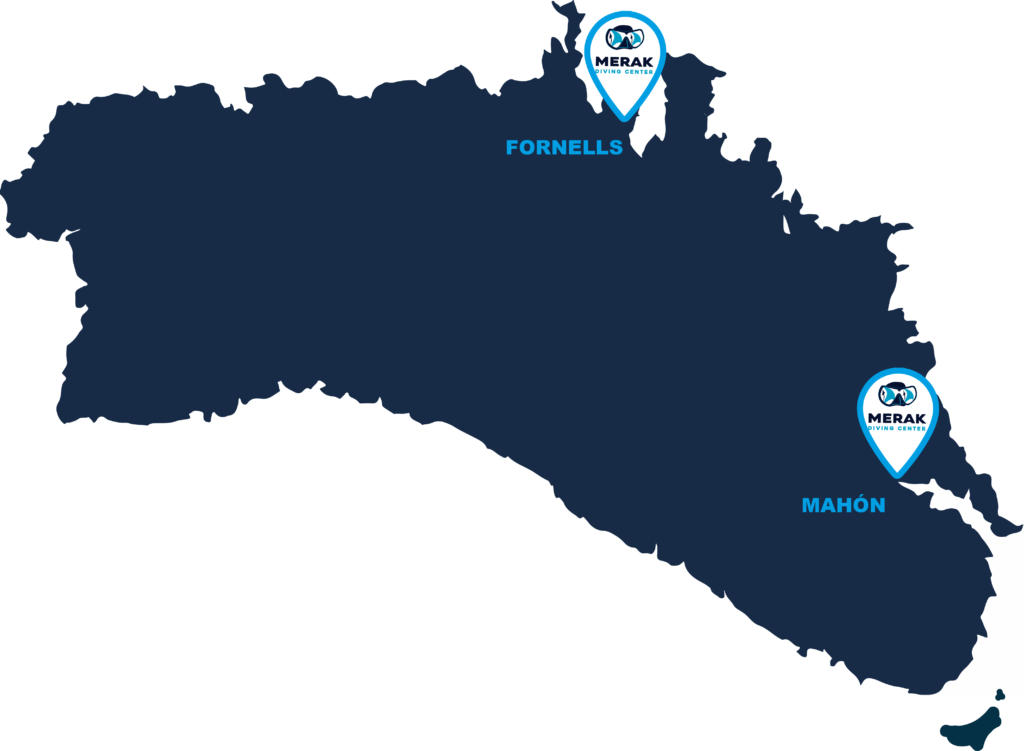 Dive located in the East of Isla del Aire, in Marine Reserve, is one of the Top spot dives in Menorca. It os like a tunnel with a double level, we can appreciate incredible backlights, the landscape of galleries that are formed is spectacular. Highly recommended. In the tunnel we can see holes where hide morays and congers. We found barracudas and multiple nudibranchs in the rocks inside the gallery.
Dive spot at the west of Isla de Aire, fun, playful and calm dive, making it perfect for all levels. It has an entertaining set of rocks, the remains of an old sailboat mast, and large schools of barracuda, amberjack, dentex, and even eagle rays, triggerfish, and tuna are often seen. All this image covered with a healthy Posidonia meadow. The landscape of this dive is incredible!
Dive site located south of Isla del Aire. Ideal to take shelter when the north wind blows. Incredible dive with an exciting backlighting. The dive consists on visiting two very beautiful caverns. The first has a small entrance at 8 meters depth, and the exit it widens, creating an interesting cavern with a spectacular backlight. The second one it's longer and it has a nice column in the middle. Amazing dive!
Beautiful dive spot in front of the urbanization of Salgar. We anchor on a big platform from where we dive until we find the wall that reaches 22m depth. A big school of barracudas usually welcome us when we arrive to this area. We find caverns, tunnels and arcs during all the dive, plenty of small groupers, scorpion fishes and some octopuses hidden on the marine floor. You will fall in love with the beautiful backlights that the caverns offer!
Beautiful dive located near Salgar, adaptable to different levels. It is a cave that communicates with an interesting funnel that allows us to surface. The backlight offered and the funnel are spectacular. We will get a surprise when ascending through the siphon to the surface. It is an exciting dive, many have went out saying: My favorite dive site!
Beautiful dive in front of the Salgar urbanization. We anchor on a huge platform from which we advance to a drop that reaches 22 meters. A large school of barracuda usually greets us upon arrival. We find entertaining caverns, tunnels and arches throughout the dive, full of groupers, scorpion fishes that camouflage themselves with the seabed. These caverns offer us beautiful backlights that will make us fall in love.
Interesting dive, very playful, characterized by blocks, holes and some small caves that create beautiful games of light. It is a simple dive which is ideal for levels with little experience or for initiation. It is located just before entering Cala Rafalet, in front of the Cova de ses Ginjoles. Night dives are a lot of fun here.
It is a easy but beautiful dive. We find diversity of landscapes in this dive: small rocks bottom, rocky blocks with multiple holes and tunnels, posidona meadow and a beautiful and huge cavern with a spectacular backlight. Schools of small fish are abundant, as are moray eels and scorpion fishes that hide among the rocks. A wall with great life entertainment and holes is traversed. The great cavern is found at a shallow depth, it is even possible to surface if conditions allow it. The backlight is just amazing!
Dive spot at the exit of the port of Mahón. We anchor on a rocky platform at around 12m depth and follows several canyons until reaching a huge cavern that acts as a tunnel. There is a small sculpture of a virgin. Continuing to the left, we advance through an endless wall, being able to see fishing nets, old anchors and a diversity of animal species.
Dive spot at the south of the islet of Cagaires. We start the dive in a small bay from where we can cross through different arcs where we often see moray-eels, groupers, scorpion fishes.. Then, we continue south until we arrive to two big caverns with sandy bottom. There, we will see big and sad dead nacras. When we look backwards, we will appreciate the amazing backlight of the caverns.
Very close to Mahón we find one of the quietest and most sheltered corners, especially when the Tramontana blows. Easy dive for try scuba and courses, but adaptable for novice divers. If you dive in the sand, rays, cleaver wrassers and amberjacks will contrast with the barracuda juveniles and various other fish that we can find on the posidonia. If we go to the other side, a wall will await us with moray eels, octopuses, nudibranchs, starfish and various species of fish. The night dives will surprise us with all kinds of species: squid, cuttlefish, sand eels, rays and many other animals that hide among the rocks during the day.
Beautiful dive site for initiation activities. We start the dive on a shallow sandy bottom where we usually see small rays that welcome us. We dive around several rocks that offer us beautiful formations and lots of fun. The light that falls on the rocks and Posidonia, where some fish swim calmly, gives this dive a magical touch.
Fishing boat, possibly used for smuggling. It was sunk due to its poor condition when it remained moored for a long time in port. The wreck rests on a sandy bottom over 40m deep. Marine life has populated its compartments and exteriors, so it is possible to see a wide variety of life. Due to its depth, it is a dive suitable only for experienced divers.
World War II Nazi plane returning from bombing Algeria. The bomber was wrecked on the coast close to Salgar. The plane ran out of fuel and splashed down in our waters, falling to a great depth. The plane is located on a sandbank in very good conditions.
The Malakoff, a french freighter, is 110 meters long and 19 meters wide. It sank on the 2nd of January in 1929, off the southwest coast of Menorca. It is between 30 and 38 meters deep and is only suitable for experienced and qualified divers.
On the south coast we find the famous caves of Cap d'en Font, a set of caves including La Catedral, El Órgano, El Campanario, Fósiles, Pozo de la Luna, it can be done in the same dive or in several. Some are big caverns, others have corridors where you can see stalactites and columns and in some you can even ascend to an air chamber. Only more advanced divers will be able to do these dives.
On the south coast of Menorca, near Binibeca beach, we find the Escull de Es Cargol. A rock that offers a variety of life, tunnels, arches and holes of different shapes, which create beautiful backlights. The dive is adaptable to different levels. Guaranteed fun!
Perfect for your first wreck. The Ocean Diver is located off the coast of Son Bou, the depth is accessible to advanced divers. It is in perfect condition and we usually find a lot of wildlife around it.
It's the most famous dive spot of the Fornells Marine Reserve and of the favourite ones for a lot of divers. We can usually find big groupers and a big school of barracudas. It's a dive for all the levels depending on the current. We surround a underwater elevation of the terrain. When we return, near the platform we see a beautiful backlight crossing in between two vertical walls that will be the icing on the cake. All in all, ¡an amazing dive!
This dive is located under the Cavalleria Lighthouse. We start the dive in a submarine mountain at 6m until we reach a maximum depth of 30m. Very entertaining dive with multiple ways to do it depending on the levels of the group. The dive is full of tunnels, caves and channels that resemble a labyrinth. We usually find a lot of wildlife.
When we get out from the harbour of Fornells, we turn right to the cliffs under the Mola de Fornells.There, we see the entrance of the cavern from the surface. It is possible to go in even with the boat. Underwater, the cavern becomes narrower as we go in. When we look backwards, we will be able to see a beautiful backlight and an amazing and huge column!
Sheltered dive in the southern part of Porros Island, we follow a wall where we usually see abundant wildlife: large schools of barracudas and very big groupers. Dive spot for all levels as long the current allows it. The changing currents will be something to take into account during the dive. One of the liveliest dives in Menorca!
Dive spot located in the north of the Island of Porros, sheltered on the days of the South and Levante. We dive along the wall, north of the island, the entertainment of this dive is the variety life that we can find, if we are lucky a big number of large groupers can be seen at this point and a school of barracuda too.
In the eastern part of the Porros Island there is a huge platform at a shallow depth. We dive for a few minutes until we reach a drop where the current is usually frequent, favoring the appearance of a lot of life in the area. Searching among the rocks we can see many groupers, brown meagre, comb grouper, octopus, moray eels before reaching the area called Tobogán, an ascending tunnel in the rock with beautiful backlights reaching the perfect depth to make the safety stop before returning to the boat.
Set of five different caverns under the cliff of La Mola de Fornells. Depending on the anchor point and the air consumption of the divers, we can all the caverns or just some of them. In all of them, when we look backwards we can se amazing and varied backlight. Outside the caverns, there are rockfalls from the cliff that creates holes and tunnels where we can go through. One of the most fun dives!
Dive spot at the exit of Fornells Bay adaptable to all kinds of divers: from try scuba to advanced divers. The anchoring area is shallow, we can find a lot of life and very beautiful rock formations in here. As we fall deeper, we will be able to see larger life: groupers, dentex, octopus and nudibranchs are usually seenwhile turning the islet of Tirant. If the divers have enough air, we will be able to go around the entire islet to end up in the shallow area where we had anchored.
One of the top dive spots in Menorca. We start on a shallow place covered by an amazing posidonia meadow. We find some archs before arriving to the best part of the dive: the Swiss cheese. A big rock plenty of holes that brings you to an inner big dome with incredible backlights. Inside and outside the cavern the landscape is just amazing!
Dive spot five minutes from the port of Fornells. As soon as we leave the bay, we turn to the right to reach Punta des Murter. We anchor on a shallow platform from where we drop down to twenty meters, finding groupers, brown meagres and some moray eels among the rocks. We arrive at a large rock where we find a nice set of tunnels and a small cave in the cliff wall offers us a beautiful backlight. Returning to the boat, if we still have enough air, we can go see some tunnels with curious backlights at a shallow depth.
We start the dive near a rocky platform and we continue to the islet of s'Etjalia, where a big Posidonia meadow will offer a beautiful view. When we reach s'Etjalia, we can find a small cavern that hides shrimps, orange mullets and other small animals. The backlight when going back it's amazing! When we reach the maximum depth at the wall of the islet we look upwards to have an impressive view of the landscape. At this point, we usually find a lot of wildlife.
When the wind from the East and North blows, we can find shelter in Cala Viola de Ponent, a small beach with sandy bottom that will be perfect for entry level activities and courses. The sandy bottom, combine with the Posidonia meadow and a small sailboat sunken it will make this dive an amazing experience.