OUR DIVES: MAHÓN - FORNELLS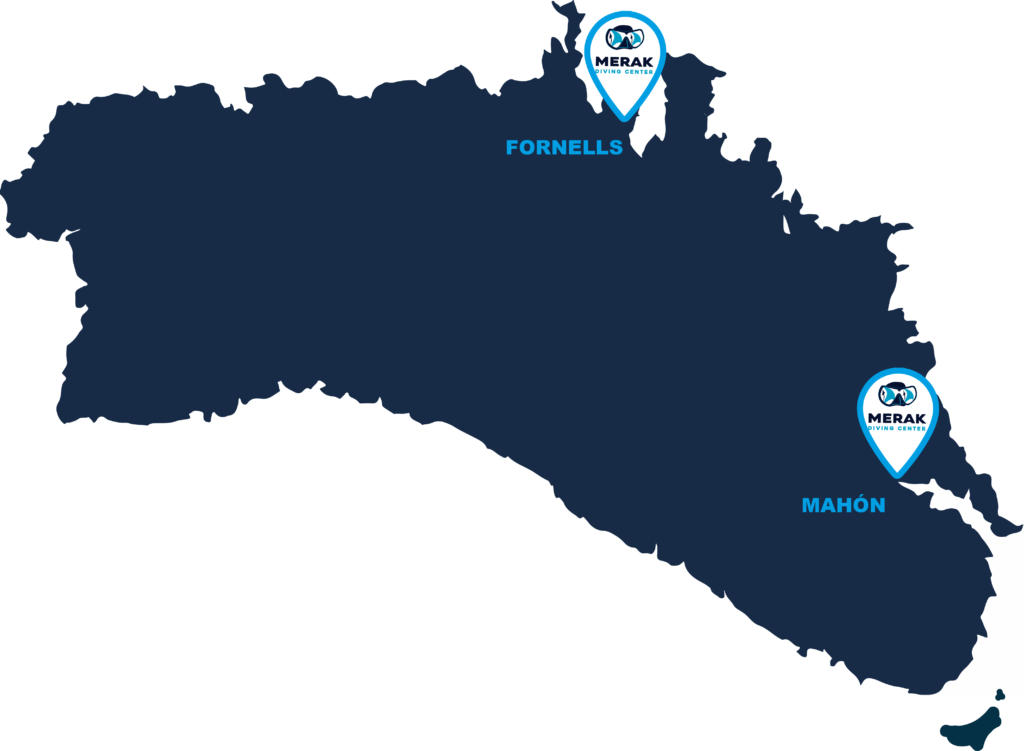 Dive located in the East of Illa del Aire, in Marine Reserve, is one of the Top spot dives in Menorca. It os like a tunnel with a double level, we can appreciate incredible backlights, the landscape of galleries that are formed is spectacular. Highly recommended. In the tunnel we can see holes where hide morays and congers. We found barracudas and multiple nudibranchs in the rocks inside the gallery.
Dive to the West of the Air Island, fun and playful for all levels. We can see the remains of the mast of an old sailboat and often see large barracuda banks, has entertaining rock games.
Dive located to the South of Isla del Aire, in the Marine Reserve. Ideal to take shelter when it blows tramontana. It is a cave with beautiful lights and shadows, the first cavern where the entrance is about 8 meters deep in the form of a crack. The cave expands and creates beautiful backlights. The second cavern is more large with a curious column in the middle, create a beautiful landscape, it is perfect for photografs.
The true definition of "Fun-Dive". Playful and fun dive, it has an area of tunnels and canyons like a maze, it's a  depth of 12 meters. Then we found a beautiful wall that falls directly to 22 meters. We find a beautiful pinnacle with a hole in the middle. In this dive we usually find a great variety of fishes and sea life that combined with the beautiful rocky shapes of the canyons make this an incredible dive.
Incredible dive located in Salgar. It is like a cave with a cuorius funnel where we can up at the surface. The light and shadow in the funnel is amazing. It's a fun dive exciting, lots of people say that Funnels is his favorite dive!
This dive is located just off the mouth of Mahon harbour. It is a large beautiful cave where we can find in the middle a small virgin as a tribute, the deepest point of the dive is in the cave. The dive has a very special charm, leaving the cave is a wall where we can find the remains of old anchors. Usually we find morays and nudibranchs in the rocks of the cave.
Fun and playful dive. We find some fun rocks, holes and a little caverns with beautifuls backlights. It is a simple dive, perfect for basic divers and begginers. It is located just before Cala rafalet.
The nice and quiet dive, runs along a simple wall but with great life entertainment and holes. In it we find a little cavern, very curious to see because of the beautiful backlighting it creates. Playful blocks of rocks are found throughout the dive. Easy level, ideal for begginers.
Very close to Mahon we find one of the most peaceful and sheltered corners, especially when the north wind blows. It is a simple and quiet dive, you go along a wall with a variety of life, and the return is done on a beautiful sand beach where we find baby rays and some octopus. This point is ideal for a try a dives and entry level courses.
Wreck located in front of Rafalet, the original fishing boat is in perfect condition, set on a sandbank. We always find very good visibility.
This wreck is an aeroplane, it shipwrecked in front Salgar coast. The aeroplane came from Argelia in the middle of a second mundial world. It was without gas and landed in our sea, is for this reason that the wreck is in quite well conditions, on a sandbank.
One of the favorites. The wreck is located just in front of Cala Galdana. The large ship is deteriorated, but it not loses the charm. Dive in this wrek is amazing. Around the ship we can see lot of sea life.
On the coast of Binibeca, we find the famous caves of Cap d'en Font, a group of caves among them The Cathedral, The Well of the Moon, The Bell Tower and The Organ, can be done in the same dive or in several. All these spectacular caves have large vaults and corridors, and in some of them you can go out to the surface.
Just in front Binibeca. Fun is guaranteed with this dive, it is a natural reef. This dive is full of curious shapes, tunnels, holes and arches… creating beautiful backlights. Adaptable to all levels.
Perfect for your first wreck. The Ocean Diver is located off the coast of Son Bou, the dept is accessible to advanced divers. It is in perfect condition and we usually find a lot of life around it.
On of the top spots in the Marine reserve in Fornells, and one of the favorites for lot of people. Full of marine life, we can see big groupers and large barracuda bancs. This dive is for all levels. In the middle we can see an arch where usually there are the barracudas. It's amazing!
A funny dive! There are diferents ways to do this dive in function of your level. It is located at the bottom of a cliff in Cavalleria. The dive is full of tunnels, caves and channels that remind us of a labyrinth. In it we usually find a lot of life.
On of the top spots in Menorca. It is a big rock with lot of holes (like a swiss chesse). It is a funny dive with incredible lights and shadows and beautifuls shapes. The central we find a nice cupola.
Inmersión resguardada en la parte Sur, se trata del seguimiento de la pared donde se suele ver abundante vida, bancos enormes de barracudas y meros muy grandes. La inmersión normalmente empieza al este de la isla y la embarcación nos recoge en otro punto distinto.
Otra inmersión situada en la Isla de Porros, esta se encuentra en la parte Norte, resguardados los días de Sur y de Levante, recorremos una pared el entretenimiento de esta inmersión es la variada vida que podemos encontrar en ella, si estamos de suerte gran cantidad de meros grandes suelen verse en este punto y algún banco de barracudas. Suele haber una ligera corriente.
La inmersión se encuentra saliendo de Fornells a los acantilados de la derecha, la caverna la podemos apreciar desde superficie, entrada ancha, en ella encontramos una curiosa columna en el medio, precioso contraluz que podemos apreciar al mirar hacia la entrada.